REGULAR ROOF MAINTENANCE EXTENDS THE LIFE EXPECTANCY OF A ROOF
Even though most people believe that they can assess a roof and identify potential problems themselves – this is best done by professionals. Certified roofing companies are also able to identify any problems that you may miss and can additionally make repair recommendations which will save your roof in the long run.
In addition, most of the commercial roof repair jobs come with at least a one-year warranty guarantee which gives businesses added peace of mind and comfort knowing that the job will be done right the first time.
If we transform these facts to numbers, we will see that an exterior and interior inspection of a roof can increase the life expectancy of it by at least 50 years. For starters, interior and exterior inspection includes looking for damage or other irregularities such as:
Displaced, missing or loose tiles or shingles
Curling at the edges or corners of the roof
Damaged caulking and roofing cement
Warmed flashing or flashing with holes
Discolored streaks
Standing water on the roof (the weight of which can make the roof sag and collapse in the future)
Obstructions in the attic vents
Water stains, moisture etc.
As you can see, all of these scenarios may lead to a damaged roof. More importantly, they are all linked to the safety and well-being of your employees, which is why they need to be carefully considered.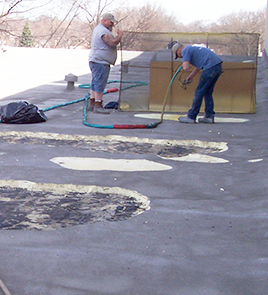 What Is A Roof Maintenance Plan?
A maintenance plan for a commercial flat roof is facilitated by a commercial roofing contractor to perform regular inspections, cleaning, and maintenance to prevent more severe damage from occurring.
Enrolling in a maintenance plan, or contract is an easy way for building owners and managers to ensure their commercial roof remains under warranty and in excellent condition while staying within their budget.
A typical roof warranty requires at least one roof inspection to be performed a year by an authorized contractor. This requirement is beneficial for the property owner and the company that issues the warranty. During the yearly inspection, the inspector will check for not only current problems but areas that could turn into problems in the future. This allows repairs to be made before they grow larger and become costly.
A good maintenance plan will go a step further; they will clean your gutters, mend your flashings and perform minor repairs for the cost of the program. Having a service team visit your roof regularly not only gives you peace of mind, but it expands your roof's lifespan and keeps you within your warranty guidelines.
In addition to scheduled maintenance, it's more important to have your roof maintenance team to your facility before and after severe weather (such as tornadoes, thunderstorms, hail or winter storms) to make sure any damage from the weather is minimized. Keep in mind that you want a contractor that has an emergency line in the event of water entering your building or any other drastic roof damage.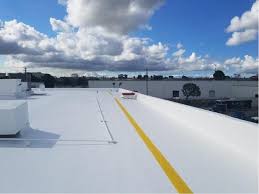 The Benefits of a Well-Maintained Commercial Roof
Preventive roof maintenance is about finding and repairing small roof problems, and stopping them before they cause damage. A well-maintained commercial roof has a longer life span, and can save you a significant amount of money on costly roof replacement. You won't have to worry about a chronic roof leak causing premature roof failure, damaging inventory, or creating hazardous "slip-and-fall" conditions. After all, you wouldn't expect your company vehicles to run well if nobody ever changed the oil, changed the filters, or cleaned their trucks, would you?
When you don't have to worry about major roof repairs, you start saving time and money. The cost of regularly inspecting and repairing your roof is much less than a full roof replacement. If you want to get the most value out of your initial roof investment, focus on preventing roof problems before they happen. Contact us for an initial consultation, so you can discuss and compare the details of a full roof replacement cost and our scheduled maintenance services.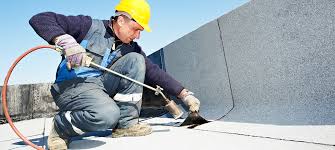 The Importance Of A Roofing Maintenance Contract
Most business owners think of roofing costs as a one-time expense. After the initial cost of installing a new roof, many owners assume there's no use in investing any more money until they need a new one. However, a roofing maintenance contract actually saves you money in the long run by proactively minimizing the cost of roof replacement or repairs. If you're interested in how a roofing maintenance contractor can actually reduce your business' roofing costs, keep reading.
The Benefits of a Maintenance Contract
Do you know which commercial roof repairs are covered under your warranty? If not, you'll probably be surprised by how little is generally covered by warranties. By providing a more holistic solution, a roofing maintenance contract protects you from internal leakage that wouldn't typically be covered by roofing warranties. Additionally, these repairs are generally covered under the terms of the maintenance contract, so you won't be slapped by any surprise costs to keep your roof in great shape. With a maintenance contract, it's much easier to understand what will and what won't be covered in the event of roof issues.
Hiring a commercial roofing contractor provides these additional benefits:
We identify significant issues before more critical damage can occur.
Regular roof maintenance and inspection can increase your roof's lifespan by up to 50%.
Having a roofing maintenance contract can increase the value of your property.
Roofing maintenance contracts can be customized for your unique needs.
We provide you with quotes regarding any major repairs needed.
Contracts can lower roofing costs on both a short and long-term basis.
Identifying roof issues early allows us to remedy issues more cost-effectively than waiting for long-term damage to occur before repairing. Plus, larger roofing issues can ultimately damage other aspects of your building's infrastructure, forcing you to spend money on additional repairs.
When managing a commercial space, keeping on top of roof maintenance is extremely important.
Protecting Employees and Customers – Commercial buildings need to be constantly maintained in order to provide a safe environment for every employee and customer who enters the building. Keeping on top of roofing maintenance can help you prevent injuries and unsafe conditions at your facility.
Protecting Inventory – If you roofing in Scituate, MA fails, your inventory could be damaged or even destroyed. This can cause a huge loss in profits for your business, and can even put the wholes business under depending on the extent of the damage.
Keeping Your Doors Open – In order to profit from your business operations, you need to keep your doors open. If you don't get regular preventative maintenance on your roof, you run the risk of having to close your doors for repairs or even a roof replacement.