Upholstery Care Guide
Vacuum & Brush Frequently
Use a soft, dry upholstery brush to loosen and remove surface dirt, then vacuum to remove dust. Always use the brush attachment to prevent fabric damage. Use an upholstery brush in the direction of the pile to restore the loft and uniformity of high-pile fabric.
Cushion Care
Cushions require occasional fluffing to restore their shape and natural loft. Fluff and smooth the inserts, and flip and rotate the cushions periodically to increase longevity. We do not recommend removing cushion casings for laundering. This can damage the fabric, and it also can be tricky to fit them back onto the cushions.
Keep It Safe
Protect from heat, sunlight, and liquids. To keep your upholstery in optimal condition, avoid placing it in direct sunlight. If spills occur, blot immediately with a clean, dry cloth.
As a general rule, spot cleaning is not recommended as it can cause fading. It's best to professionally clean the entire piece to ensure the color remains uniform.
Codes
Your professional upholstery cleaning company will need the fabric's cleaning code. Please reference our fabric guide for your furniture's upholstery cleaning code.
S (Solvent Only)
Instruct a professional cleaning service to use pure, water-free solvents. Petroleum distillate-based products may be also used.
SW (Solvent & Water)
Instruct a professional cleaning service to use water-based cleaning agents, foam, or pure solvents.
Briar Floral Velvet
We recommend consulting a professional upholstery cleaner on how to best maintain this fabric.
Margot Floral Velvet
We recommend consulting a professional upholstery cleaner on how to best maintain this fabric.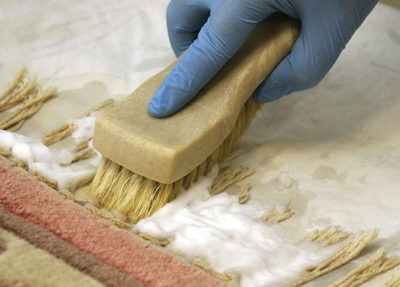 FABRIC & UPHOLSTERY
GENERAL UPHOLSTERY CARE
Because dust and dirt cause fabric to wear faster, we recommend vacuuming regularly with an upholstery attachment.
Flip, rotate and fluff removable cushions regularly to ensure even wear and increase longevity.
Feather and down cushions have excellent recovery, but much like down comforters or pillows, need to be fluffed frequently to restore their loft. Some feather loss is normal. Vacuuming with an upholstery attachment between the fabric casings and cushions will help prevent feathers from poking through the fabric.
Tight (attached) cushions will stretch and wrinkle with use. You can easily restore their appearance by smoothing the surface and tucking excess upholstery into the sides of the seat or back.
To minimize fading, avoid placing your upholstered furniture in direct sunlight. Dark fabrics and natural fibers like cotton are most susceptible to fading.
An annual professional cleaning will keep your upholstered furniture looking its best
HOW TO SPOT CLEAN UPHOLSTERY FABRIC
Do not dry clean or machine wash cushion casings as it may damage the fabric, backing or stitching. For large or persistent stains, contact an in-home professional upholstery cleaning company.
For spot cleaning small stains, we recommend Folex Instant Carpet Spot Remover or Crypton Purple or Gold Upholstery Stain Remover, which are safe to use on all of our fabrics.
Treat stains immediately for the best results. Blot up as much of the spill as possible with a clean, dry, white cloth. Don't rub.
Apply a small amount of cleaner to the stain and gently agitate it with your fingertips. Avoid oversaturation which can damage the fabric backing or cushions.
Blot the stain with a clean, dry, white cloth, working from the outer edge to the center of the stain.
Continue to apply cleaner sparingly and blot until the stain no longer transfers onto the cloth. This may take several attempts. When you've removed as much of the stain as possible, blot any remaining cleaner from the fabric.
If your spot cleaner recommends a water rinse, apply a small amount of distilled water to the stained area and blot to remove. Tap water may stain or discolor the fabric due to its mineral content.
Use a hair dryer on the lowest heat setting to evenly dry the fabric and prevent moisture rings.
Replacement cushion casings are available
FABRIC CLEANING CODES FOR PROFESSIONAL CLEANING
In-home professional upholstery cleaning companies will request your fabric's cleaning code, available at roomandboard.com/fabrics or on the back fabric swatches. Please contact us with any cleaning code or care questions.
S = Solvent. Use only water-free, pure cleaning solvents.
W = Water. Use only water-based upholstery cleaning products.
SW = Solvent or Water. Use pure cleaning solvents or water-based cleaning products.
HOW TO SPOT CLEAN DILUTED-BLEACH CLEANABLE FABRICS
DO NOT use this cleaning method if you are unsure if your fabric is diluted-bleach cleanable.
Remove any loose debris. Blot up liquids on the fabric's surface with a clean, dry, white cloth. Don't rub.
In a spray bottle, prepare a solution of one ounce bleach and 30 ounces water.
On the spray bottle's "fan" nozzle setting, spray the stain with the bleach and water solution and let it soak in.
Using a soft bristle brush or sponge, very gently work the solution into the stain. Work from the outside in so as not to spread the stain. Rinse your brush or sponge frequently. (Rough brushing or sponging can damage the fabric and reduce its ability to repel stains.)
Use a spray bottle to spray the fabric with clean water to rinse off the bleach solution.
Thoroughly blot the stain with a clean, damp cloth. Rinse the cloth between blots, and continue until the stain is gone.
Allow fabric to air dry.
If the stain remains, repeat these steps using a stronger bleach solution of two ounces of bleach and 30 ounces of water.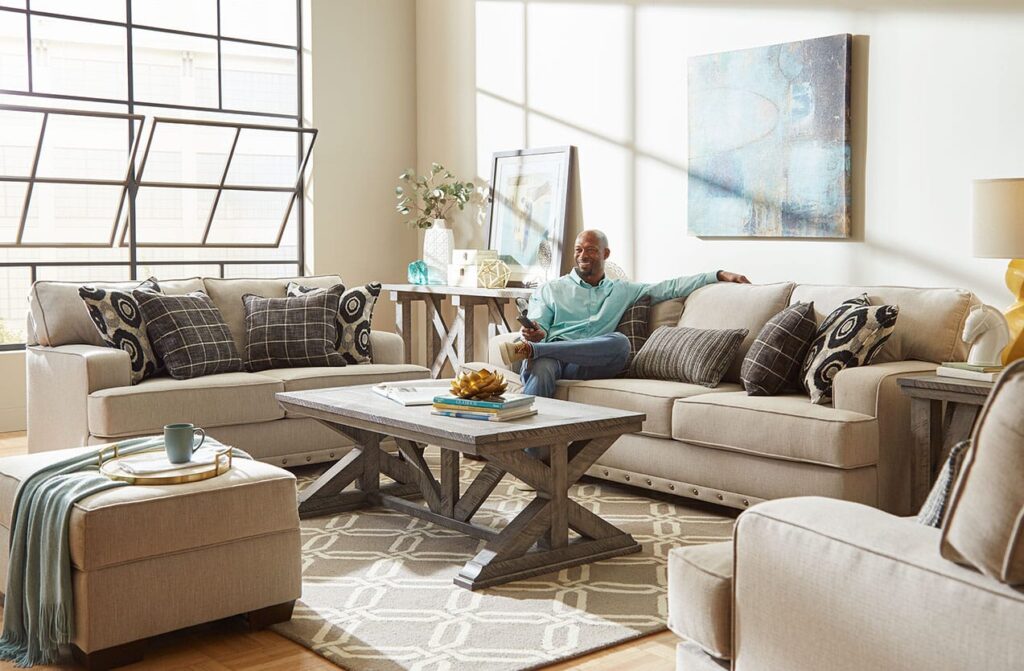 FURNITURE CARE GUIDE: TIPS FOR CLEANING FABRIC SOFAS
Your furniture is an investment. It's also at the center of your family's universe, which means it's highly likely to be the victim of accidental spills, stains, and general everyday wear and tear. The good news is that tough stains and messy spills don't have to be part of your furniture forever as long as you follow proper care and cleaning tips. And we can't stress this enough—address any spill or stain immediately! The longer it sits in the fabric, the harder it will be to remove.
Things To Know Before You Buy
Consider your lifestyle. The fabric content of your sofa can give you great insight into the level of care it will require to stay looking fresh and new. Kids, pets, or frequent dinner guests? You may want to look for durable performance fabric options. Not a concern? Feel free to explore more delicate fabric blends that contain linen or wool, for example.
Consider the cushions. Sofas constructed with loose and/or reversible cushions are typically more forgiving. Conversely, sofas with a tight seat or back style will generally keep their shape longer, but won't have the convenience of being able to flip over or rotate a cushion.
Consider fabric protection. Our furniture protection warranty program provides peace of mind and protects your furniture investment, giving you the freedom to enjoy your beautiful furniture worry-free from accidents.
How to Clean Fabric Stains
Read the label. Take the time to familiarize yourself with your sofa manufacturer's recommended cleaning and care instructions. These are often found underneath your cushions on a tag and indicate the best way to clean your sofa when spills do occur. It is important not to ignore these instructions, as your furniture manufacturer knows their product better than anyone else. Failing to follow these instructions could not only void your warranty, but could leave you with permanent marks if the wrong cleaning method or solution is used.
Know the cleaning codes. Your sofa will most likely have one or two letters on the tag beneath the cushion indicating the manufacturer's recommended cleaning method(s).
W stands for: Water-based cleaner. As the name indicates, this type of solution uses water as the primary cleaning component, and is therefore the only recommended cleaning solution.
S stands for: Solvent-based cleaner. This type of solution uses a cleaning chemical as the primary component, and is therefore the only recommended cleaning solution.
WS or SW stands for: Solvents and water-based cleaners. You can safely use either one to clean your sofa.
X stands for: Not cleanable with water- or solvent-based solutions. Rather than using a solution to clean the fabric, it is only recommended that you clean with vacuuming or light brushing.
Tackle stains quickly. As soon as a spill or stain occurs, clean it immediately for the best results. Even allowing a few minutes to pass can cause the stain to set in, making it harder to remove.
Lightly vacuum (if necessary). If there are food crumbs or loose particles on your sofa, be sure to use a hand-held vacuum or vacuum attachment to gently remove them prior to tackling the stain.
Spot clean with the recommended solution. Before you begin cleaning, be sure to spot test your solution in an inconspicuous area first to ensure it's the right product for your fabric content. Once you're in the clear, begin cleaning your sofa with the recommended solution. As with the instructions on your sofa's tags, it's also imperative that you follow the instructions on the cleaning solution's packaging.
Blot and dry. Assuming your cleaning solution's packaging says it's safe to do so, blot the cleaned, wet spot with a dry microfiber cloth to soak up any residual moisture.
Let it "sit." Avoid sitting in the cleaned area until it is fully dry. This often requires a good air dry overnight, resulting in a fresh, clean sofa in the morning.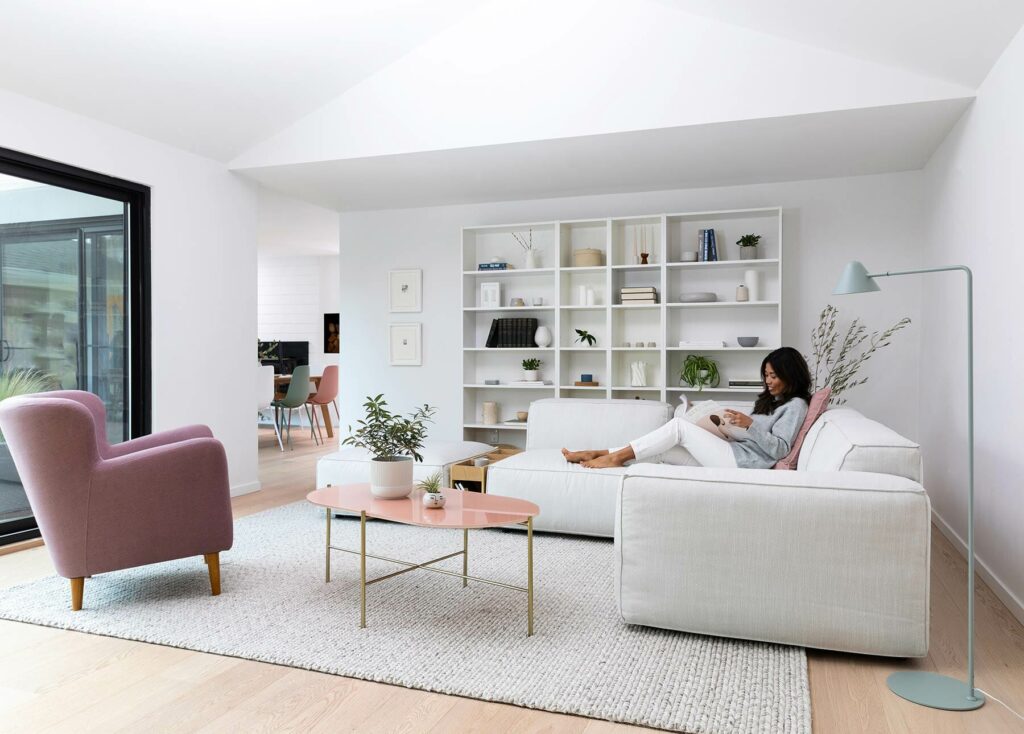 ULTIMATE FURNITURE CLEANING GUIDE
It's January! Otherwise known as the time of year where we refresh everything we can get our hands and mental energy on. We at Article have lots of resolutions, but chief amongst them is to become masterful cleaners. Not pedestrian, clean-the-bathroom, scrub-the-sink cleaners, but the kind of diagnostic expert that understands how to clean a range of fibres, materials, and fabrics. To that end, we've built this handy ultimate furniture cleaning guide to help you come along on our journey toward expertise. Roll up your sleeves and put on an apron: we're going deep.
GENERAL CARE TIPS
The sunny spot — best left to your animals. Shafts of sunlight are great mood lifters, but if you can, try to position your furniture so it's not sitting in direct light. UV rays will fade and damage leather, wood, and fabric items.
Be careful with chemicals. Household chemical cleaners and detergents work great in your bathroom and on some kitchen appliances. Nothing is more satisfying than dissolving shower mold. However, when it comes to furniture, we generally recommend against them. Chemical cleaners can have strange reactions with natural fibers and materials. To avoid weird spots, we go without, or leave it to the pros.
Flip it and reverse it. If you have furniture with removable cushions, get into the habit of turning them frequently. Flipping a cushion doesn't make a stain go away (we've tested this extensively), but it does help to evenly distribute wear. Everyone has their favorite seat. It just doesn't need to look that way.
HOW TO CLEAN LEATHER FURNITURE
There is nothing quite like the creamy, soft texture of leather. Leather furniture is a carefully considered investment purchase. At Article, we use full and semi aniline leather across all of our products. Quick refresher: "aniline" refers to the dying process a hide goes through once it's been tanned. Full aniline retains its natural markings (think bug bites, scratches, etc); semi-aniline has a thin layer of wax applied before dying to help color be absorbed more evenly. Semi-aniline leather has a more uniform appearance. Ultimate furniture cleaning guide tip number one: know thy fabric.
We love full aniline leather because it's especially forgiving. General wear shows up on the couch, but quickly gets in step with the overall look and blends right in. Cleaning both full aniline and semi aniline leather furniture is the same, and it's simple. Once a week grab a clean, damp cloth and use it to wipe or buff away noticeable stains. Use a brush vacuum-attachment to clear up debris and crumbs from tufts, seams, and corners. Doing this regularly keeps debris from caking into hard-to-reach areas.
To keep your leather looking its best, commit to giving it a regular wipe-down with a leather conditioner for hydration and shine. We like the leather salve and leather oil from Otterwax. Apply once you've received and set up your sofa, and then again every six months to keep it in tip-top shape.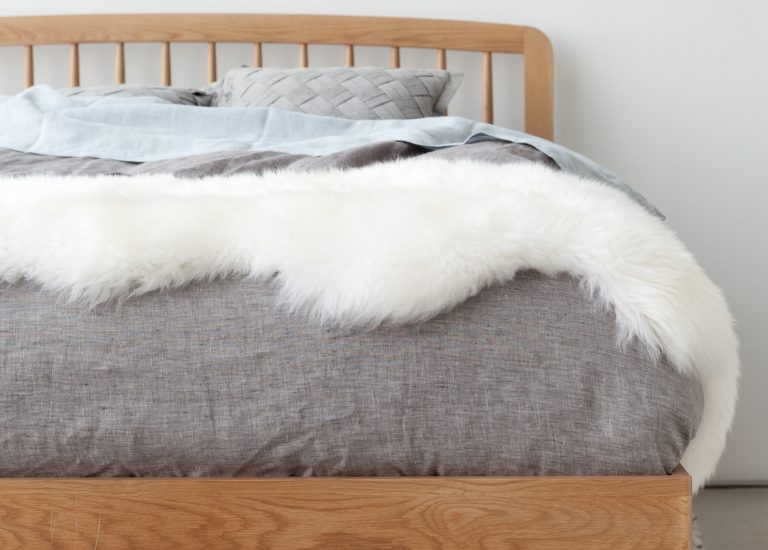 A Sofa-Cleaning Guide for Pet Owners
When you have pets, accidents happen. Unfortunately, sometimes that means those accidents happen on your furniture. But all is not lost. With a few tips and tricks, you can keep your sofa looking good and feeling comfy as a favorite spot for both you and your pet. Renew the look of your sofa with our guide on removing stains, getting rid of pet hair, and hiding wear and tear.
Removing Stains and Odors
So, you've just noticed your beloved four-legged friend has left behind a less-than-pleasant calling card on your upholstered sofa, chaise or club chair. Ugh! Getting these stains out may seem impossible, but with a few handy tricks up your sleeve, you can restore your couch to its former glory.
1. Soak it up. For liquid accidents, first soak up as much of the liquid as you can. Start by blotting the mess (not rubbing, as this could damage the fabric fibers), then lay down a towel to absorb what remains. This will help to reduce any odors and will make the stain removal process that much easier later on.
2. Air out the cushions. After you've soaked up the liquid, air out any of the removable pieces of your sofa, including cushion inserts. You can also vacuum upholstery with a HEPA vacuum to help alleviate any lingering odors.
3. Spot clean or wash. Before you apply any cleaning solutions to your sofa, check the manufacturer's instructions. If the instructions indicate that detergents are okay to use, apply a detergent or a cleanser designed specifically for upholstery. Then gently dab at the spot, rinsing with water as necessary. Baking soda and pet-specific enzymatic cleaners can also be effective at removing the stain. Avoid steam cleaning, as the heat can cause any stains to set in. If your sofa has machine-washable slipcovers, pre-treat any spots or stains with an upholstery detergent before laundering (again, check manufacturer's instructions).
4. Neutralize the odors. Baking soda can be helpful in removing stains and odors. Leave this on for a few hours or overnight, depending on the severity of the smell, and then vacuum it up. You could also apply an enzymatic spray, which is formulated for pet messes and designed to naturally eliminate odors. Vinegar, if safe for your specific fabric, can also help neutralize strong smells.
If you find a stain that's already dry and set into the fabric, it may be best to call a professional upholstery cleaner. Stains that have already set in are much more difficult to remove. Sometimes trying to clean them can damage the fabric fibers and ultimately make the mess look worse. Professional cleaners can work to get messes out without pushing them into the fabric and cushions.
Removing Pet Hair
It's a matter of life for many animal owners: Pets shed. While shedding comes with the territory of owning certain breeds of dogs and cats, removing pet hair is relatively simple for upholstery. An easy trick? Dampen a pair of rubber gloves or a sponge and simply glide your hands across your sofa. The hair will clump together, making it come up with minimal effort. Classic lint rollers and hair magnet brushes can also be great at helping to pick up your furry friend's hair from your sofa.