Professional Electrical Safety Inspections Done Right
To avoid electrical related accidents, it's always best to undergo electrical safety inspections. You don't want to risk the lives of your loved ones, nor do you want to risk losing all of your possessions and valuables to an electrical fire. Everything can have an impact on your home's electrical circuit including age, usage, and the installation of newer electrical devices. When buying, selling, or even just for your peace of mind, it's important to have an electrical safety inspection done.
There are a few important things that you need to keep in mind when it comes to your household and electricity usage. In order to protect your family and loved ones it is in your best interest to know and understand your homes electrical panel. You need to know which fuse or switch on your panel controls the corresponding light or outlet. If you have any doubt with regards to your homes safety, have a licensed professional come to your home to conduct the necessary and relevant checks.
The National Electrical Code (NEC) is the standard code that all licensed electricians must adhere to in order to meet state and local regulations with regards to electrical safety standards. Remember, each state has its own specific rules and regulations regarding electrical codes. You need an electrician who is licensed to work in your specific state. It is illegal for any person to do an electrical installation if they are not state licensed. Licensed electricians need a minimum of 14 hours approved continuing education to ensure that they understand all code regulations and are up to date on any changes that may have occurred.
A safety inspection will cover all areas of your home that receives electricity, including attic. It will also cover and check all grounding and bonding of circuits, branch circuits within your home, wiring methods and related devices.
General Electrical Safety Checklist:
Are all light fixtures working and have diffusers been installed?
Are the cords in good condition without signs of deterioration, bends, or wear and tear?
Are extension cords being used in place of permanent wiring?
Are all appliances grounded?
Check the wiring methods and ensure that they are suitable for the current use.
Ensure that all conductors of a circuit are grouped together.
Check for wet and damp locations and the suitability of boxes and fittings in that area.
Check wiring and bending space in cabinets and boxes.
Ensure that any switches in wet or damp locations are properly installed in weatherproof enclosures.
Ensure that the household is compliant with branch-circuit voltage limitations.
Check what grounding electrodes are present on the premises.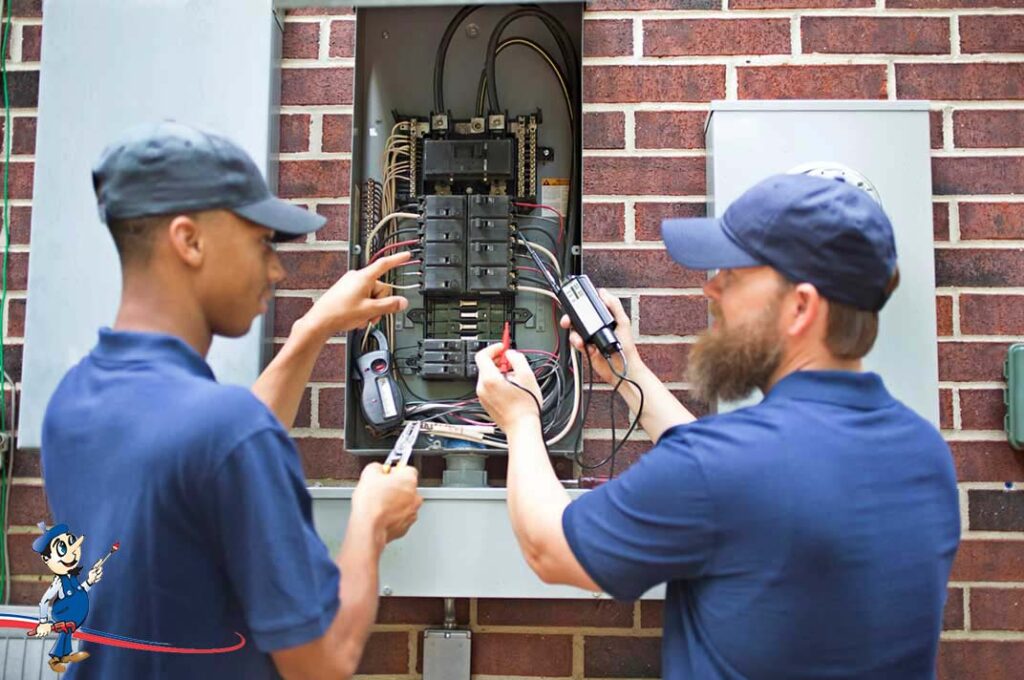 Home Electrical Safety Tips
You power your home with energy, but do you know electrical safety? The United States Consumer Product Safety Commission reports that 31,000 home electrical fires occur every year, and with over 180 cases involving electrocution or electricity-related incidents that could have been avoided, home electrical safety is too important to ignore. At Constellation, we care about the safety of our customers, and by following these electrical safety tips you can protect your home and your family.
What causes electrical fires in homes?
The National Fire Protection Association notes that faulty or damaged wiring and related electrical equipment cause 69 percent of electrical fires, followed by lamps, light fixtures, cords, plugs, transformers and other power supplies. When looking for potential fire hazards in your home, always be sure to consult with a professional.
Electrical Safety Tips for Your Home
Many electrical fires can be prevented by following some simple electricity safety tips. Below are 10 household electricity safety precautions every homeowner should know and follow. Always remember to ask a professional if you're uncertain about the safety of an electrical outlet or appliance.
Check that you're using the correct wattage in all your fixtures and appliances.
Using the right bulbs can prevent electrical problems, so check all lamps, fixtures and appliances to ensure you're using the correct wattage. If a light fixture has no wattage listed, use 60-watt bulbs or less. For unmarked ceiling fixtures, choose 25-watt bulbs.
Watch out for overloaded outlets to protect your home.
Overloading an electrical outlet is a common cause of electrical problems. Check all outlets to ensure they are cool to the touch, have protective faceplates and are in proper working order.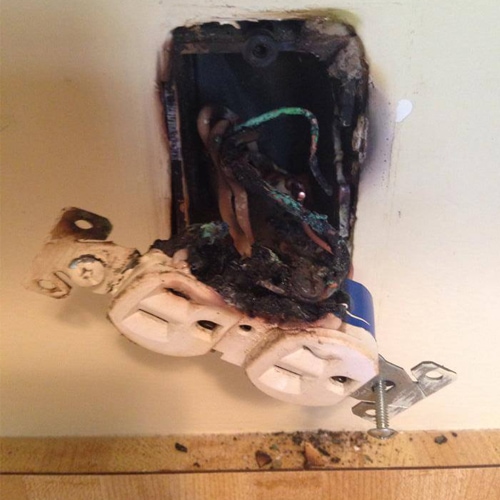 Home Electrical Safety Inspections
Inefficient or unsafe electrical systems in your home can have devastating effects. If you think your appliances are working fine, or you've had no electrical issues in the past, remember it only takes one degrading wire or breakage in an electrical circuit to cause a fire.
Protect your home with Rytec Electric
Determining potential hazards or weaknesses in your electrical circuits, before they cause any problems, is essential for the safety of your home.
Avoid costly repairs with a home electrical inspection
It's easy to avoid expensive repair bills when you work with Rytec Electric. Our certified electricians identify problems and electrical hazards, before any long-term damage occurs, and offer free in-home quotes for any electrical repair work needed.
Don't wait until your appliances stop working, or an electrical fire breaks out. Rytec Electric provide detailed analysis of all electrical systems in your home during an electrical safety inspection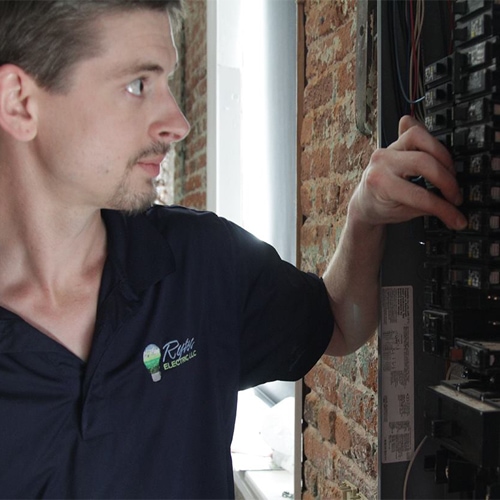 QUALIFIED ELECTRICAL SAFETY INSPECTION
WHAT DOES AN ELECTRICAL SAFETY INSPECTION ENTAIL AND WHEN IS AN ELECTRICAL SAFETY INSPECTION REQUIRED?
You might wonder what exactly an electrical safety inspection involves for you and we can explain exactly what it is, why it is important and when an electrical safety inspection is required.
The purpose of an electrical safety inspection is to verify that your electrical wiring, set up and electrical appliances are compliant with safety standards. Having a professional electrical safety inspection company conduct inspections means you can be more confident in the protection of you, your household or your team at a commercial premises.
An electrical safety inspection involves inspecting and assessing wiring and circuitry, checking for outdated wiring that needs upgrading, testing power points and lighting as well as security, testing smoke alarms, examining the meter box, checking for exposed wires or any electrical hazards and determining whether there is any DIY wiring; the latter is not recommended for the purpose of safety and insurance.
BUYING A NEW HOME OR COMMERCIAL BUILDING? LET US PERFORM A QUALITY ELECTRICAL SAFETY INSPECTION
For safety and peace of mind, when you are considering purchasing a property, whether it is residential or commercial, you should engage the services of a qualified electrical safety inspection company with professional services
Why? Because you need to be confident that the wiring is competently achieved and safe without electrical hazards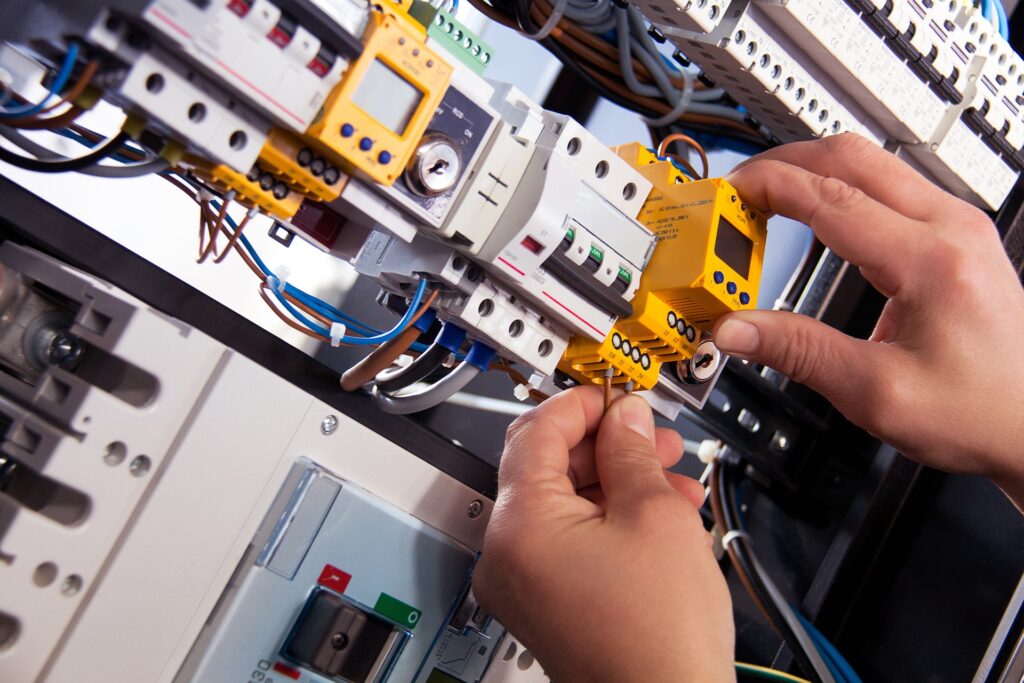 Electrical Safety Inspections
If you own a home that is at least 30 years old or has recently suffered some type of damage, it's essential you get a thorough electrical safety inspection. We provide complete interior and exterior inspections that cover every single component of your home. You can feel confident that your assessment will be performed by certified and licensed electricians who have extensive experience and training with all types of residential wiring systems. If there are issues with your electrical wiring, we'll identify them, give you an accurate and honest report, and help you with the right solutions that are specific to your home.
The Benefits of Electrical Safety Inspections
There are numerous benefits and advantages of hiring a technician to perform a safety inspection in your home. At the top of the list is fire prevention. Electrical problems are the number one cause of residential fire damage in the U.S. alone. An inspection can identify possible hazards and prevent them before they happen. Wiring assessments also prevent electrocution from using small appliances and electronics that are connected to a faulty outlet. Inspections can keep your insurance rates low and your home resale value high. And, last, they insure that your electrical system is operating as efficiently as possible, which saves you money each month on your energy bill.
What Does an Electrical Safety Inspection Include?
In order to determine the value of a safety inspection, it's important to know just what will be inspected and what an experienced and trained electrician will be looking for. A proper electrical inspection will cover every point along the route of your wiring, from the power lines attached to your property, all the way to the last outlet or last switch. With that in mind, here are a few key areas that we inspect. This is not a comprehensive list, but rather, it showcases the highlights.
Why Choose Us for Electrical Safety Inspections
One of the biggest challenges in getting an electrical safety inspection, is finding the right company to do it. We specialize in home electrical safety inspections. Our electricians have decades of combined industry experience along with years of training and education in all wiring systems both old and new. We are committed to the safety of your family and want to help you avoid the pitfalls that come with old worn out wiring. We work closely with each of our clients through every step of the safety inspection. You get the results that your looking for with an accurate report of every single component in your electrical system