Tips for Choosing a Toilet
How to choose a toilet — The Basics
Whatever you call it, the bathroom toilet is one of the most important items in your house. While the color and cost matter, how much water it uses and how well it flushes matter more. A good one conserves water and generates enough power to clean the bowl in a single flush. (A bad one can be a 20-year pain in the butt.) This article will help you choose a high-performance dunny that will fit your bathroom, budget and backside. You might want to check out these 50 mind-blowing toilets before settling on what you want.
A new generation of low-flow models
Since 1994, low-flow toilets that use 1.6 gallons per flush (gpf) or less have been the federal standard. The first generation of low-flow toilets sucked—or rather, they didn't. That's mostly because manufacturers tweaked a few things to reduce the amount of water used but didn't change the basic design. You had to flush the darn thing twice (so much for water savings!). But 15 years later, more of these toilets actually work. Manufacturers have made significant design improvements such as larger trap-ways to prevent clogging and larger flush valves that allow a more powerful rush of water to enter the bowl. The following tips will make choosing a new bathroom toilet a lot easier.
How Much Do New Toilets Cost?
You can get a "contractor special" cheap toilets for less than $75. But everything from the working parts to the quality of the glazing will likely be low quality. And don't expect a powerful flush from cheap toilets. You're going to use your toilet every day for years, so get a good one. Plan to spend $100 to $500 for a gravity toilet and $225 to $600 for a pressure-assist model.
Shop plumbing supply houses and bathroom showrooms
Home centers offer some but not all of the top-ranked toilets. Click here to check out the latest Home Depot toilets. For the widest selections in makes and models, visit bathroom showrooms and check online retailers.
Consider Future Repair Costs
Custom seats and unusual flush mechanisms add a cool factor, but they'll cost you time, money and frustration if they ever need replacing. A replacement custom seat, for example, costs more than $100 (if you can even find one years later).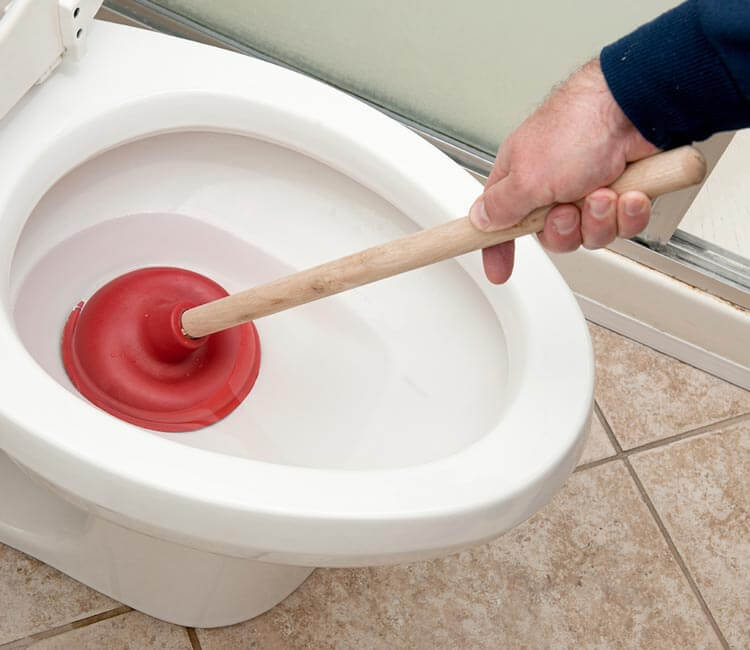 How to Unclog a Toilet
Stuck with a clogged toilet in your bathroom? Well, you've come to the right place! Clogged toilets are a common issue that homeowners will face every now and then, and can get frustrating at times. Follow these steps to unclog your toilet like a professional plumber!
Now that you're prepared, follow these steps:
Step 1: Once you notice the toilet is clogged, prevent the toilet from overflowing with water by turning off the water. Do not try to unclog your toilet by continuously flushing it.
Step 2: Cover the floor around the toilet with old towels or paper towels to prevent a mess
Step 3: Grab your rubber gloves and toilet plunger and insert the plunger in the toilet with the rubber cup covering the trapway hole completely
Step 4: Vigorously pump the handle of the plunger for 5-10 minutes. You'll notice the water in the bowl will begin to drain. This may take a few tries depending on how clogged the toilet is.
Step 5: Take the plunger out of the toilet and set it aside. Turn the water back on and try flushing the toilet once to see if it is unclogged.
Step 6: If you flush once and the toilet is still clogged, repeat steps 4 and 5 until the toilet is unclogged and the flush is back to normal.
Hacks for Stubborn Clogs
Sometimes a plunger just isn't enough to fix the even the most stubborn clogs. If you find yourself exhausted after repeatedly using the plunger with no results, have no fear! Try these hacks to help loosen the clog.
Avoiding Future Clogs Starts with a High Performance Toilet
Are you finding that it doesn't take much to clog your toilet and that you're constantly busting out the plunger? Make sure that you are only flushing toilet paper. Flushing common toiletries such as facial tissues, cotton swabs, tampons, or dental floss can easily clog your toilet because they do not break down in water. Alternatively, if you own an older toilet, you may want to invest in a new toilet for your bathroom, as some older toilets are engineered with weaker flushing power. American Standard offers a variety of toilets that have high performance flushing technology that can last for years to come. The Champion collection of toilets range from a 1.28 – 1.6 gallons per flush flow rate, and are EPA WaterSense Certified to help conserve water.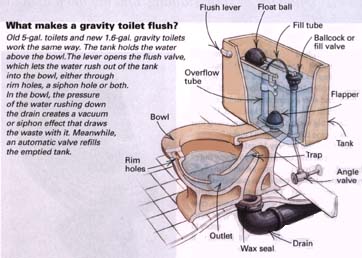 Choosing a Toilet
A head-to-head comparison for our readers with nothing to go on.
At first the toilets in our house were merely sluggish. Then they got slower and slower until they didn't flush at all. But the toilets weren't clogged. Something was in the sewer line. So I rented a sewer snake, unscrewed the clean-out and fed the hungry snake down the chute. In it went 10 ft., 25 ft., 40 ft. Still, the pipe didn't drain. As I pondered the problem, my young son stuck his head out the window, his little fists full of his favorite action figures, the Teenage Mutant Ninja Turtles. "Turtles live in the sewer, Daddy," he said.
Gone are the days when we could flush toys.
After our sewer was deturtled and the attendant blockage removed, our toilets flushed magnificently. What was amazing was that all those Teenage Mutant Ninja Turtles could ever have been flushed down the toilet at all. But those were the days of the 5-gal. flush. With that much water chasing after them, an entire flotilla of Ninja Turtles could've been flushed home at once-and might have been
How 1.6-gal. gravity toilets work
Regardless of price or style, all gravity toilets depend on gravity to pull the water-and waste-through the system (drawing right). When the handle is pushed, a flush valve opens, and the water in the tank drains into the bowl, either through rim openings, through the large siphon-jet opening across from the drain at the bottom of the bowl or through a combination of both. The gravity-fed speed of the water pushes the waste through the trap and into the drain
What this country needs is plunger lessons
Complaints against the 1.6-gal. toilet include sluggish or incomplete flushing; a small "water spot," as the area of the toilet bowl water surface is called; staining; and the need to double-flush or triple-flush. Critics say that if a 1.6-gal. toilet is flushed more than twice, it uses more water than the now illegal 3.5-gal. toilets.
These toilets are here to stay, so we'd better get used to them
Patrick Higgins is a licensed plumber and chairman of the ASME/ ANSI Plumbing Fixture Committee. Higgins has a great deal of personal and professional experience with 1.6-gal. toilets.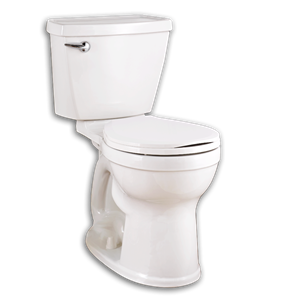 What You Need to Know About a Clogged Toilet
What You Need to Know About a Clogged Toilet
We all know it. The horrible feeling after we flush where we see the water rise instead of fall. The panic. Especially if this happens to us while visiting someone else's home. The awkwardness that follows. It's a situation some of us have nightmares about. Well, we've got some tips to help you and your guests be spared of the embarrassment of a clogged toilet. Believe it or not, most often clogged toilets are the result of poor toilet maintenance and not just a one time… deposit. If you've recently experienced the unfortunate circumstance of a clog in your home then it might be time to pay a little more attention to how you've been treating your porcelain throne.
What Is a Clogged Toilet Anyway?
A clogged toilet is the backup of toilet water and other contents caused by a blockage in the toilet itself or the drain pipes. Sometimes the blockage is partial and sometimes it's full. Both can be easy or difficult to repair depending on what they're composed of. Regardless, they'll both result in your water having no escape path through which to be flushed.
Why Do Clogs Happen?
There are multiple reasons but most of them lead to one main cause – improper use of the toilet. This means that homeowners are flushing things down the toilet that have horrible repercussions on the pipes and plumbing. Many of the things our plumbers find being flushed down Edmonton toilets are repeated from home to home, so let's clear up some of the common misconceptions of items that are "safe to flush"!
What NOT to Flush
Time and time again our plumbers encounter clogged toilets due to a build up of the same types of items from home to home
Hair: Your brush is full of hair so you pull it all out of the bristles. You're left with a handful of locks – you may not even know it, but you've reached a critical moment in your toilet's maintenance. Do you flush it or throw it in the trash? We hope you choose the latter. Numerous homeowners clog up their toilets due to the misconception that hair is safe to flush. It isn't! Hair is much stronger than you'd expect and when it gathers it creates a net that catches anything solid that makes its way down the pipes of your toilet. Large amounts of hair buildup alone can be dense enough to cause a clogged toilet so it's very important to avoid sending any hair down your drains. This goes for your shower too (that's why we recommend using a drain hair catcher in your home's water fixtures).
How to unblock a toilet
There is never a good time for a toilet to become blocked, so when the worst happens you'll want to make light work out of a potentially big job.
It's easy to panic and grab the toilet brush to use as an impromptu plunger, but with water rising and the blockage seemingly immovable, you'll want to take calm steps towards clearing out the clog with minimal mess and fuss.
What to do when your toilet is blocked
If you have a blocked toilet, the first rule is not to panic – even if you're in a hurry, guests are arriving any minute, or the estate agent is about to pop round. It can be alarming when your toilet is blocked and nothing's going down, but these steps will help you get to the bottom of the problem.
Close the flapper: If you've flushed once already and nothing's happening, whatever you do avoid the temptation to flush a second time and risk the nightmare of an over-flowing toilet. The first thing you'll need to do is lift the lid of your toilet tank and close the toilet flapper with your hand. Don't worry! The water in the tank is perfectly clean. Look out for a circular drain stopper attached to a chain. This is the flapper. Closing it will prevent more water entering the bowl.
Protect the area: Rather than grabbing frantically at nearby bath towels or unspooling metres of toilet paper, place newspaper or paper towels around the toilet to catch any splashes or drips. It's also a good idea to open a window or switch on the extractor fan to assist with expelling any unwanted odours that may emerge.