Choosing the Right Contractor for Electrical Maintenance
When it comes to maintaining your business's electricity, choosing a professional contractor is essential. The right contractor brings with them the right knowledge and skills to repair and maintain your office's electrical systems. So, if you're running a business or franchise and are in need of an emergency repair or electrical maintenance, read on to make sure you get the right help and services.
WHAT IS ELECTRICAL MAINTENANCE?
As more and more businesses become reliant on high-quality electrical systems in this digital age, it's necessary that electrical maintenance is performed to keep things running smoothly. Electrical maintenance can include anything from changing light fixtures to installing hi-fi equipment or fixing a non-functioning or broken air conditioner. Anything that requires electricity can be maintained or repaired by a contractor. Commercial electrical work is a complex sector of the electrical trade and can include fitting or repairing of industrial warehouse lighting, installing security systems and more.
WHY IS ELECTRICAL MAINTENANCE IMPORTANT FOR BUSINESSES AND FRANCHISES?
Many business's success and security relies heavily on electricity. From video surveillance cameras to integrated security systems, as well as smart lighting systems and energy-saving technology; if these become faulty or in need of repair, your business will suffer. Electrical maintenance is therefore essential in servicing these complex systems to prevent downtime or a major technical glitch.
WHY YOU NEED AN ELECTRICAL CONTRACTOR
An electrical contractor will be able to identify potential issues, as well as provide ongoing maintenance to ensure that your business's electrical systems are all running as they're meant to. An electrical contractor provides a range of services including repairs, installation, inspections, safety testing and preventative maintenance. Modern workplaces bring a degree of difficulty when it comes to electrical maintenance and repair, with strata units having advanced systems and wiring requiring an expert electrical contractor. Master electricians are your safest option for electrical maintenance on your business or franchise, since they generally have both the electrical experience and the business know-how to ensure the best service, keeping the efficiency and successful running of your business in mind.
WHAT TO CONSIDER WHEN CHOOSING A CONTRACTOR
There are many ways of finding an electrical contractor, along with many considerations to make when choosing the right one. You will need to find a trustworthy and competent electrician who can meet your expectations. The first thing to consider is the purpose of requiring a contractor. Are you planning on renovating or refitting an office? Are you installing a new security system? Or is there an emergency repair that requires prompt attention?

Essential Tips To Help Your Choose the Right Commercial Electrician
Electrical work in a commercial setting is different and distinct from domestic electrical work, and therefore requires an experienced electrician. Correctly functioning and safe electrics are essential to your business, workplace, warehouse or store, so choosing the right commercial electrician is key. A high quality commercial electrician can not only be useful to establishing functioning electrics at your business or workplace, but can also be an essential business resource to keep you up and running when electrical faults arise. Here we look at 6 of the most important things to look for when choosing a commercial electrician, so you can make the right choice for your business
Choose An Experienced and Knowledgeable Electrician
Because commercial electric work can be both unique and complex, it's important to work with an experienced and well trained electrician for commercial projects. Commercial electrics is much more than just domestic or residential electrics on a larger scale, it is a completely unique system with its own features and nuances. To ensure the highest quality result, and safety for you and your business, always choose a fully trained, experienced and knowledgeable commercial electrician. Ask your electrician about their commercial experience and training, as well as whether they have proper licensing. This ensures you work with the best quality commercial electrician and always receive high quality and reliable results.
Can They Meet Commercial Demands?
It is essential that your commercial electrician is able to meet the demands of commercial electric work both in terms of knowledge and practical capability. Commercial electrical work requires the versatility to excel in rapidly changing and diverse settings, and the flexibility to work well with both the design and installations as well as repairs and maintenance. A good commercial electrician should also be able to work with a team of construction professionals on a project, so it may be advisable to check your electrician's past experience, particularly in terms of communication and working with others
Confirm Licensing and Insurance
Of course, when choosing a commercial electrician, it is absolutely essential that they hold the proper licensing and insurance for the work they will undertake. Choosing a licensed electrician means you avoid being liable for paying worker's compensation if the electrician accidentally suffers any accident or injury on the worksite. Likewise, electrician insurance provides coverage to pay for damages if something goes wrong, while bonding (another form of insurance) provides coverage if your electrician disappears before the project is completed.
Check Reviews and References
You want to learn as much as you can about your commercial electrician before your hire them, to ensure you're making the right choice. While word of mouth and recommendations were previously the best way to learn about an electrical contractor, now with online reviews, websites and references, you can easily learn even more about your electrician's past projects, their client's reviews and work portfolio. Check online reviews of your electrical contractor's commercial work to assess how they completed their projects in the past. To get more specific feedback, you can also contact your commercial electrician directly to ask for references from past commercial projects that are similar to the current project you are undertaking. This can allow you to get a clear idea of the way your electrical contractor works on commercial projects and even give you the chance to speak directly with a past client.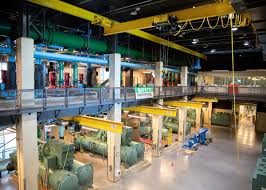 Ways to Choose the Right Maintenance Electrician for Your Commercial Business
As we enter the digital age, more and more of your business relies on high-quality electrical systems. When looking for maintenance electricians, especially for emergency situations, it is important to choose reliable, professional tradesmen. But how do you find the right electrical services?
Scope of work
Whether you are up for a refit, moving offices, or needing repairs, commercial electrical work is a complex sector of the electrical trades industry. Once you have contacted a likely choice, make sure to explain clearly what your expectations are of the job and the available budget. Ask to be taken through what approach they would take. An experienced electrician should be able to identify potential issues, outline likely parts required and get a rough timeline of the works
References
The internet is a valuable source of information when you are looking to hire commercial trades. Check out Cablewise's Projects page here for a gallery of delivered jobs across the Perth metropolitan area. Past project galleries are invaluable for ensuring the electrical services you need to match the expertise of the specialities of your short-listed electricians.
Quotations
When making contact and asking for a quote, there are a few things you can be aware of that help you determine the professionalism of your likely electricians
Nothing is worse than trades that don't meet commitments or deadlines. Whether they have taken on too many jobs or are simply disorganised, quality organisations like Cablewise take great pride in being on time, every time.
All electrical work in WA requires certification of tradesmen who are required to hold a current electricians license. It is important for safety that your hired tradesmen carry the appropriate licence for the job.
Just like your business, your electrician should have public liability and business insurance. These details should be provided when asked for, you don't want to be unprotected when works are underway.
Service quality. In the electrical trade, service is not limited to the end result. A professional job takes into consideration time, minimises disruption to your commercial activity and respond to queries promptly.
Time required. As part of a quote, you should be presented with a likely timeframe for works to be completed. This can vary depending on the size of the electrical team, speciality equipment necessary, and the experience of completing similar projects in the past.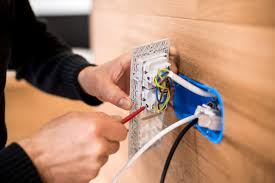 How to Choose The Right Commercial Electrician
Properly functioning and safe electrics are crucial to the running of your business, workplace, warehouse, or store, so working with the right commercial electrician is key. Such a professional will be able to:
ensure the safety of your workplace, employees, and customers
keep you up and running, even when electrical faults arise
recommend the best lighting options to enhance productivity & lower your utility bills
establish functioning electrics at your business
Professional and Licensed Commercial Electricians in Calgary
At Fluorescent Man Lighting, we have a team of highly qualified, licensed residential and commercial electricians who have the expertise and equipment to meet your lighting needs quickly and safely. Whether you require an installation, repair, or replacement, we can help get you back up and running in no time!
Essential Tips To Help You Choose The Right Commercial Electrician
Electrical work in a commercial place, such as an office or warehouse, is very different from residential electrical work and therefore requires a commercial electrician who is experienced within this setting.
Choose an Experienced Commercial Electrician
Electric work in the workplace tends to be both unique and complex, which is why it's so important to work with an electrician who is well-trained in commercial projects.
Confirm Licensing and Insurance
Whenever you work with a commercial electrician, you MUST make sure that they have the correct licensing and insurance for the work they'll be undertaking
HOW TO CHOOSE THE RIGHT COMMERCIAL ELECTRICIAN FOR YOUR BUSINESS
Commercial electrical work can be very different from domestic electrical work. Choosing the right commercial electrician for your business requires many considerations. Make the correct choice by following these simple tips.
Experience
Commercial electric work requires experience. Check your electrician's experience and knowledge with commercial electrical work. The more experienced your electrician is, the more knowledgeable they will be with complex projects.
Resources
Does your electrician have the internal resources and team to meet all your electrical needs? Don't settle for a one-man band. A good commercial electrician should have a team of well trained professionals
Communication & Cleanliness
You're running a business, so you don't have time to waste. Make sure your electrician communicates well and is able to liaise with other contractors who may be on site too. While your electrical work is important, you need your business to continue running. Your commercial electrician should understand this, and make an effort to keep their work area clean and tidy for you
License and Insurance
It goes without saying that it is critical that your electrician should have proper licenses and insurance for the work they perform. In the unlikely case that there is an accident on site, you will be assured that your electrician is covered.