Move Out Cleaning: What to Clean Before Moving Out
Here's how to move out and what you need to clean before you do
You've snagged a deal on a new place and you'll never have to look at your old apartment again; you're moving out! Well, once you've completed your move out cleaning, of course.
Most renters don't pay close attention to the details of moving out of their space when they move into their apartment, but most leases stipulate that, before handing over your keys on move-out day, you need to clean your apartment or risk losing a portion of your security deposit. So before you say goodbye to your old place, here's what your move out cleaning needs to involved.
Refer to Your Lease
The best way to get started is to find your lease and locate the portions that involve any move out cleaning information. There might already be language in your lease that stipulates what exactly you have to pay for or clean before moving out.
For example, it's not uncommon for a landlord of a large multi-unit complex to automatically charge tenants for carpet cleaning, blinds cleaning, and in some cases, even carpet replacement when moving out. Some leases have the exact amount specified in the lease, while others will depend on which company the landlord uses for this service.
Speak to Your Landlord
If you have any questions at all that your lease doesn't cover, you should speak to your landlord and clarify how thorough your move out cleaning needs to be. Getting an idea of their cleaning expectations will help you prioritize your cleaning.
In most cases, you will be on the hook for the move out cleaning. Do a great job and leave everything as it was when you moved in and you'll have a better chance of getting your security deposit back. If you do a sub-par job, the landlord may be legally allowed to hire a cleaning crew and charge you for the cost.
Talk to your landlord about how thorough of a job you'll need to do, and know ahead of time if you're responsible for the move out cleaning or if they'll be hiring cleaners regardless. If they will be hiring a cleaning service, get an estimate in writing of how much it will cost you.
If You're Responsible, Make Sure You Really Clean
Most landlords define "clean" as sparkling, brand-new, and barely able to tell the unit was recently inhabited. This means that if you're cleaning it yourself, you'll need to be thorough in your cleaning – very thorough.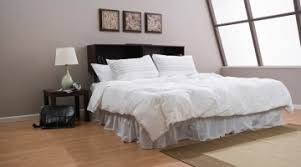 Here are some Suggestions:
First: Do Small Repairs or hire a Handyman.
Making repairs before moving out is a balancing act. Odds are that your landlord will charge you more to fix something than it would cost to do it yourself, but don't overdo it. Only make repairs you can do quickly and cheaply. For example, don't fix anything that came broken and don't improve another person's property for the sake of your security deposit.
Make small and easy repairs, including:
Patch Holes. Use putty and some paint to patch up any holes you made hanging pictures or curtains.
Paint. If you painted any room in the rental, paint it back to its original color.
Replace Light Bulbs and Batteries. Add light bulbs to any burned out fixtures and check the batteries in the smoke detector.
Make the Stove Look New. If you burned anything on the pans below the burners, replace them rather than clean them. These only cost a few dollars at a hardware store.
Make the Bathroom Shine. Use a bleach pen or white paint to touch up any stains or marks you caused in the sink or bathtub.
Also Take Your Stuff
If you leave anything behind, especially something big, the landlord will have to hire someone to remove it, which will come out of your security deposit. Double and triple check storage areas, closets, drawers, and cabinets before you leave for the last time.
Return Your Keys
Many tenants forget this step and it costs them. When you're finally out of your rental, contact your landlord and set up a time to drop off the keys. Make sure you give him everything you have, including gate and mailbox keys. Otherwise, the landlord will charge you a replacement fee for every key you take with you.
Be Careful with the Walls. A lot of renters use expandable brackets to brace large pictures and furniture to the walls. But these brackets often leave large holes when you remove them later. If at all possible, find a less damaging way to display your decor.
Keep the Rental in Good Shape. Treat the space like it's your own property and not "just a rental." Keep it clean and in good condition while you're living there. For example, clean up spills on the counters and floors immediately and be particularly careful with light-colored carpets and counters that can stain easily. Treat appliances with respect so they remain in good working order when it's time to move out.
Pay Your Rent on Time. Make sure you have your rent check to your landlord by the due date each month. This is the single easiest way to get and stay in good graces with your landlord. He may also be more forgiving of small wear and tear you cause if you maintain a good relationship.
Move-Out Inspection. Ask your landlord to complete a move-out inspection with you after you've moved your belongings and cleaned the apartment. Have the landlord explain any damages. If pre-existing damages are noticed, show your landlord the list you agreed on in your move-in inspection as well as the photos you took. You can offer to fix new damages yourself or try to negotiate down the cost of the deduction from your security deposit. Get any agreements in writing so your landlord won't be tempted to renege on them.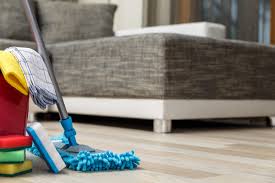 What to clean in your apartment bedroom when moving
As the bedroom will not be visited often during the last days of the moving, begin your cleaning there:
Hoover and wipe all dust from all areas including those hard to reach spots such as behind and under the bed, wardrobe, nightstand, desk and other furniture;
Dust and clean the windows, blinders, curtains, curtain rails, door frames, light fittings, picture frames etc. Careful with washing dry clean curtains only.
Remove any fingerprints or other stains on the mirrors, doors, window sills, handles and other shiny or reflective surfaces and decoration;
Look for cobwebs and remove them, every inch of your apartment should be spotless;
Pro tip: Liberate Windows from Smudges and Dust
Grab a bucket with soapy water, since you can expect lots of hidden dirt to reveal its true, messy colours. You should also wipe the window sills and their underside area to ensure that your windows pass the "finger swipe" test.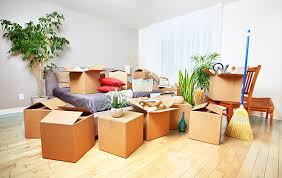 CLEANING YOUR HOME BEFORE A MOVE
When it's time to move, it's also time to clean. Not only should you clean the place you're leaving, but you should also clean your new home. Moving into a new and clean home is a great feeling. Here are some of the things you should consider when it comes to cleaning the home you're leaving and your new home.
WHAT TO CLEAN BEFORE YOU MOVE OUT
If you're moving out of a rental, you want to clean the necessary areas to ensure you get your deposit back, or at least most of it. Those moving from a home they have sold should also clean as a courtesy to the new owners. A few cleaning tasks you should consider include:
Remove all screws and nails from the walls and putty the hole.
Dust everything including ledges and ceiling fixtures
Clean the windows
Clean all doors and door knobs
Clean the outlets and light switches
Vacuum (if the carpet has stains have it professionally cleaned)
Thoroughly clean the bathrooms
Clean everything in the kitchen including the refrigerator
Dust, sweep, mop and vacuum any empty rooms
If you do have an outside as a part of your rental or house, cut the grass and sweep out the garage.
Hiring a Cleaner
If you don't have the time or energy to conduct a thorough deep cleaning, it's a good idea to hire a professional cleaning company. They can do it for you. Professional cleaning costs will vary depending on the size of your home and your needs.
The average cost of professional house cleaning services is $25 – $50 per hour of cleaning. Additional cleaning tasks including windows, carpet cleaning, cleaning storage areas, and other duties may cost more.